Commemorating Lysander Spooner:
Despite a steady rain here in New England, a marker was installed today commemorating the birthplace of
Lysander Spooner
. On January 19, 1808, Spooner was born in this house in Athol, Massachusetts (about 75 miles west of Boston)[click to enlarge photo], and in it he later wrote
The Unconstitutionality of Slavery
.
Ever since I first saw the house about ten years ago, I have wanted to arrange a marker to note its historical significance. Thanks to a generous gift by a fan of Spooner named Tom McGovern, the cooperation of the home owner Elsa Paton, the efforts of my BU research assistant Nathan Speed, and the really nice people at the A. Monti Granite Company in Quincy, MA, that day finally came, and I am thrilled.
The stone is "puddingstone" and the bronze marker is 18" x 12." Here is a closer view of the stone (click on the image to read the plaque and see the coloration of the stone):
Click hidden text to view more pics of the installation.
Update: For those who have not seen it, I thought I would upload some photos of the monument we had put on Spooner's grave at Forest Hills in Boston a few years ago.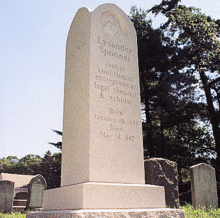 For directions to Spooner sites in and around Boston click
here
. For more pics of Spooner's gravesite monument click here: